Installing an SR227 Super Socket should be an easy task: Remove the old outlet, replace with the new. Unfortunately, the size and design of the SR227 make it a bit more difficult. This article will NOT teach you how to install new outlets/circuits/etc. You should already have a basic understanding of, and some experience in doing electrical work. If at any point you have even the slightest inclination that you can not do this work safely - DON'T. Hire a professional instead.
A note before you begin:
Be sure the power is turned OFF at the load center (breaker box). Then, use a tester to ensure that the power is off at the outlet you will be working on. DON'T touch ANYTHING or remove a single screw until you have tested that there is NO POWER in the outlet box you are working. Be sure to 'lock out' your breaker box by placing a sign on it telling people there is worki being done. Place tape over the breaker you are working on to further discourage others from turning it on.
The easiest way to add these outlets to your home is to replace an existing normal outlet. However, You should NOT replace GFCI outlets with SR227's as you would then remove the shock protection from that circuit. If you don't know or can't tell the the difference between a regular outlet and a GFCI outlet, you probably don't have the experience to do this job safely and should call a qualified electrician. SR227's can (and SHOULD) be used downstream from a GFCI when used outdoors.
Doing more than replacing an outlet may require a permit. Check with your local building department.
Unfortunately, replacing an existing outlet with a SR227 is not an easy task. The outlet is much thicker than a normal outlet (it's even thicker than a GFCI outlet). Instead of having screw terminals it has wire leads that must be attached to existing wires with wire nuts. What you end up with is a lot of stuff (wires, wirenuts, the outlet, etc) that has to be crammed into a small space. If there are additional wires in the box you are working on, for instance another set of wires that feeds a downstream outlet, there is simply no easy way to get everything to fit. To tell you the truth, I don't know how these are even approved to be installed. The NEC (National Electric Code) specifies how much stuff you can put into a box (in cubic inches) and these have to be WAY over.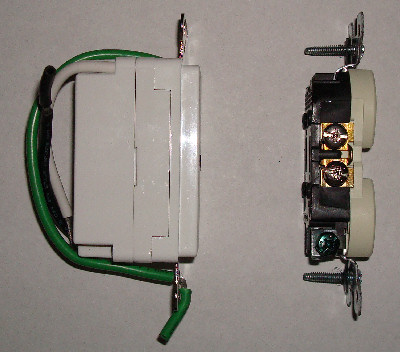 ---
There are a few things you can do to make things easier:
If you are using these in the interior of your house, plan on removing the entire existing wiring box and installing a double gang 'old work' box. This will give you the extra space you need. This is especially true if you have multiple wires in the box - for example feeding downstream outlets/switches/etc. Then just purchase a cover plate that has a 'Decora' opening on one side (for the SR227), and is blank (solid) on the other. Replacing an interior box is beyond the scope of this little article, so try this one:



http://www.hammerzone.com/archives/elect/remodel1/lighting/track2ft/oldworkbox.htm





If you want to add an SR227 in addition to an existing outlet, opt for another single gang box (and conduit/etc) rather than replacing a single gang with a double gang. There will be more room in the existing box to attach a pigtail to the new SR227 than if you use a double gang box.






If you have exterior boxes that are surface mounted, you can swap them out. Swapping out your single gang box for a double is easy - just be sure to get a box with the same sized and same number of conduit holes. Dual gang exterior boxes typically come in 3 hole (1 top, 1 bottom, 1 back) and 5 hole (2 top, 2 bottom, 1 back) versions where the hole is 1/2", 3/4" or 1".



If you would rather not replace your single gang exterior outlet box with a dual gang, or want to install 2 SR227's (or an SR227 and a GFCI outlet) in a dual gang box, purchase a box extender. The extender will add enough space so everything will fit.






Don't use the red wire nuts that come with the SR227's. Instead, go for the next smaller 'yellow' size if you can. Be sure to check the package for the maximum quantity and size conductors you can safely use, and don't exceed it. Avoid wirenuts that have the small 'wings' on them. While they are much easier to use, the extra wing portion makes it even harder to get everything into a box.






If possible, for instance you are installing these as new outlets and not replacing existing ones, try to route the wires into the box from the top or bottom, and not in from the back. The SR227 is so deep that wires fed in from the rear will make it nearly impossible to get the outlet to sit properly in the box.
---
Once you have enough room to work in, the installation is very easy:
Remove the old outlet, or mount a new work box and pull new wire into it. (You did remember to turn off the power, right?)

For new work, strip off the outer sheath, and then strip the wires to the correct length, For old work, cut off the old stripped wire and re-strip - DON'T try to straighten the old stripped portion.

Twist each of the stranded wires on the SR227. There should be no stray loose wires on any of the 3 conductors. This is VERY important. It is VERY easy to miss one of the very small individual wires that make up the whole conductor. If you do, chances are when you turn the power on you'll short out the outlet. (I speak from experience on this one)

Follow the colors. Twist like colored conductors together (black to black, white to white, green to green or bare), again clockwise. Use linesman pliers here and be neat - don't just do it by hand.

Twist a wirenut onto each of the conductor pairs. Be sure no stripped wire is exposed. Give each wire a tug to ensure that it is firmly in the wirenut.

Carefully pack the wires back into the box. Expect this to take some time to get just right. You'll need to use every inch of free space in the inside of the box. Generally it's best to position the wirenuts so the wider 'bottom' of the nut is to the left or right of the outlet with the 'top' of the nut over the top (or under the bottom) of the outlet.

Put the cover back on, set the house and unit code, then turn the power back on.

Test the new outlet to make sure it's wired properly, and the X10 signals turn it on and off.