The display is located off the north end of Collier Parkway in the Lake Padget Estates East subdivision. Getting here is pretty easy, but don't follow the directions you'll get from places like Mapquest or Yahoo. They ALL incorrectly connect Mayfair Rd to Collier Parkway. There is actually a large concrete wall that separates the 2!
For everyone's safety, the show does not run during times of rain or high winds.
When coming to visit the show, please do NOT park in the neighbors' driveways or yards. Keep your parking lights ON, and be mindful of others who may be on foot. As a courtesy to everyone, please keep your radio volume to a reasonable level.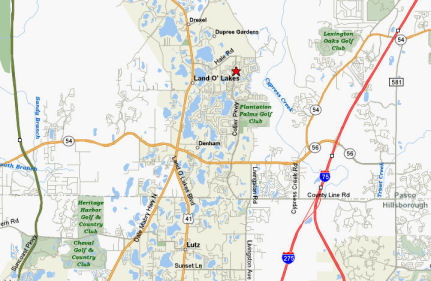 Once you are in Land O Lakes you can either:
Go Northbound on Collier Parkway, then turn right onto Hale Road - The GREEN route. Since Collier Parkway connects with SR 54, this is the best route from directly east or west of Land O Lakes (New Tampa/Zephyrhills/I-75/Suncoast Expy). Please note that Collier Pkwy has recently been extended North from Hale Rd. Previously Collier Pkwy ended at Hale and many map sites (including the maps I have here) do not yet show the new extension.
Go Eastbound on Hale Rd - The RED route. Hale Rd connects with US-41. This is the best route from North/South of Land O Lakes , including Tampa/Carrolwood/Spring Hill/Dale Mabry Hwy.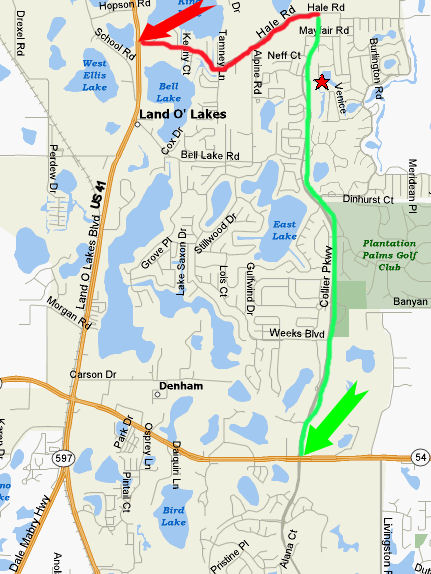 Once on Hale Rd. follow it to the end.
Hale Rd will force you to turn right onto Canterbury.
Right onto Mayfair
Left onto Victoria
Right onto Brighton
At the "T" turn Left